Sesame buns
For 6 buns we need:
Butter – 50 g
Eggs – 2 pcs.
Sour cream – 200 g
Sesame flour – 90 g
Almond flour – 2 tbsp spoons
FiberFin – 2 tbsp. spoons
Psyllium (flour) – 2 tbsp. spoons (you can also bran, but then a little more)
Baking powder – 2 tsp
Salt – 0.75 tsp
To cover:
Eggs – 1 pc.
Sesame seeds – 1 dl (50 g)
Preheat oven to 175 degrees.
Beat the eggs well – about 3 minutes with an electric mixer – until frothy. Add melted butter, sour cream, and the rest of the dry ingredients and stir until smooth.
Let the dough stand for 5-10 minutes.
Form buns with wet hands and place on a baking sheet covered with baking paper.
Sprinkle sesame seeds on top and bake for 15-20 minutes.
The buns are very good freshly baked. They can then be stored in the refrigerator in a sealed plastic container for several days. Preheat them slightly in the oven before serving.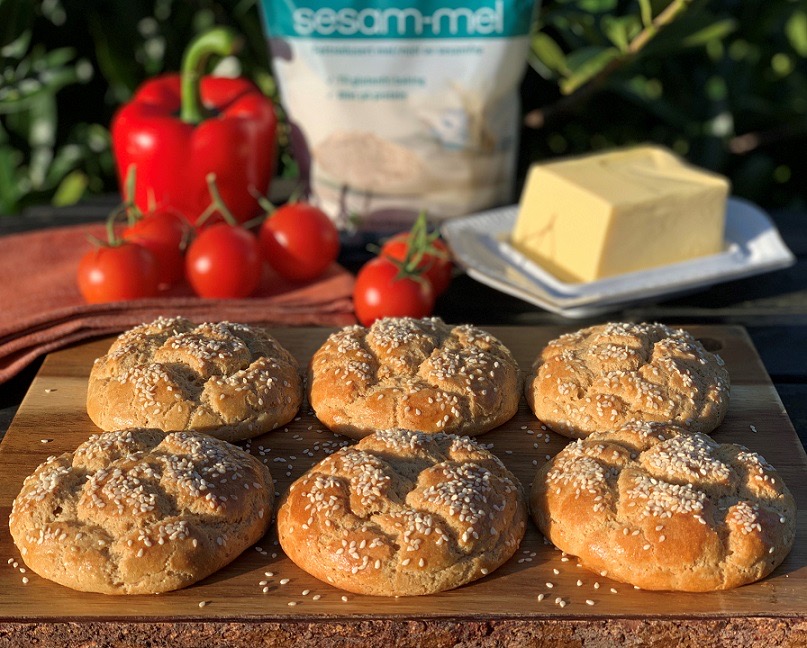 For all the buns:
Proteins – 63 g (18% kcal) Fat – 129 g (78% kcal) Carbohydrates – 16.1 g (4% kcal)
For one bun (if you made 6 pieces):
Proteins – 10 g (18% kcal) Fats – 22 g (78% kcal) Carbohydrates – 2.7 g (4% kcal)