To begin with:
Almond flour – 150 g
Almonds – 150 g
Butter – 250 g
Neutral Coconut Oil – 30 g
Eggs – 3 pcs.
Sukrin Gold – 80 g
Pear – 250 g
Nutmeg – a pinch
Lemon juice – 1 tsp
To decorate:
Almond petals – 25 g
Sukrin Melis
Preheat the oven to 180 degrees.
Remove the peel from the pears and cut into thin slices.
Take a cake pan with removable edges, put baking paper on the bottom, or grease the cake with coconut or butter. Put pear slices close to each other on the bottom. Sprinkle with lemon juice and sprinkle with nutmeg.
Beat softened butter and coconut with sucrin, gradually adding eggs. Chop the almonds until finely chopped. Combine low fat flour with ground almonds and add to the butter and eggs. Stir everything until smooth and lay on pears. Garnish with almond petals on top.
Bake 40-45 minutes at a temperature of 180 degrees.
When the cake has cooked, sprinkle the powder on top Sukrin Melis.
Any LCHF syrup and a scoop of low-carb ice cream are perfect for the pie.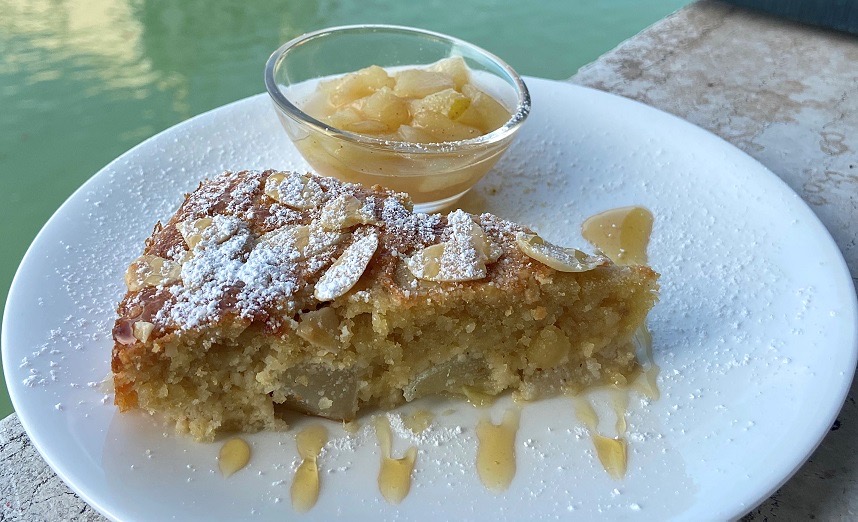 For the whole pie:
Proteins – 121 g (12% kcal)
Fats – 378 g (83% kcal)
Carbohydrates – 49.1 g (5% kcal)
For one piece (1/12)
Proteins – 10 g (12% kcal)
Fats – 32 g (83% kcal)
Carbohydrates – 4.1 g (5% kcal)